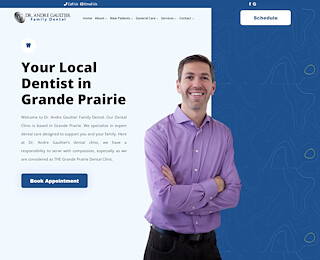 Don't choose a short-term solution to missing teeth- consider dental implants in Grande Prairie as the superior solution to tooth loss. Dr. Andre Gaultier Family Dentistry can help you explore options that fit your budget and deliver exceptional value in terms of aesthetics and function. Lifetime implants look, function, and feel like your natural teeth- you'll find they're the best investment in cosmetic dentistry compared with other options, like dentures and bridgework. For information on dental implants, feel free to schedule a new-patient visit with our staff.
What Are Dental Implants?
During implant surgery, your dentist will permanently place your new tooth into your jawbone, for exceptional stability that is as good or better than natural teeth. While the tooth's surface will appear identical to existing teeth, the 'root' that you can't see is made of titanium and matches is typically well-received by human bone. While the new tooth may feel unfamiliar if tooth loss is not recent, in a very short amount of time, it will come to feel like your natural teeth. Best of all, implants are undetectable by others, so no one will suspect you've had a tooth replaced. You can learn more about the process when you research tooth implants in Grande Prairie on Dr. Gaultier's website.
What Are the Benefits of Dental Implants?
Aside from being more stable than dentures and bridges, implants are superior to other alternatives to replacing missing teeth because they are a better overall value. Dentures & bridgework generally last between 5 and 10 years, making lifetime implants a far investment over time, despite their slightly higher upfront cost. Additional advantages of dental implants in Grande Prairie include:
Exceptional aesthetics
Confidence when smiling
No slipping- ever
Durable & long-lasting
No awkward feel
No risk of losing prosthetic
No specialized care
Designed & Manufactured to Last a Lifetime
Care for your dental implants like your other teeth, by brushing & flossing twice daily, seeing your dental care provider for twice-annual checkups and cleanings, and by listening to your dentist's recommendations for ongoing treatment. If you're on the fence between dentures and dental implants in Grande Prairie, Dr. Andre Gaultier Family Dentistry invites you to schedule a consultation appointment with us to assess your goals and determine whether implants are a good option for improving your smile. Make the call today, and you'll be well on your way to a more beautiful smile.
Website Resources
Feel free to click on the 'Services' link to explore more information about implants, such as additional advantages over dentures, post-treatment care information, and details about single and multiple implants. If you have other questions, we'd love the chance to answer them for you- just call our office to set up a visit. Research shows that when we look our best, we're more likely to feel our best, which is one more reason to see us soon; we'll be waiti9ng for your phone call or email communication.
Dental implants grande prairie