Your Choice for SE Calgary Dental Bridges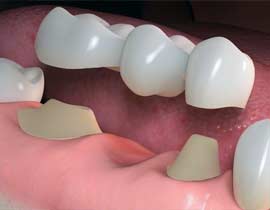 Copperstone Dental offers SE Calgary Dental Bridges as a functional and aesthetically pleasing option for replacing missing teeth.
A dental bridge is a restorative dental treatment that is used to replace one or more missing teeth in the same area. There are many types of dental bridges available, and the best option for you depends on your specific situation. Dr. Tonny Tang will thoroughly examine your teeth to identify the best type of dental bridge for your situation.
How Dental Bridges Work
Dental Bridges are attached to the teeth on either side of the missing tooth [or teeth] which are called abutments. The abutment teeth are shaped to accommodate the dental bridge and will look very similar to the size and shape of the original teeth. A pontic is fused in-between the abutments to replace the missing tooth or teeth in that area. We primarily use full porcelain dental bridges but here are cases where a dental bridge can be made from gold, metal alloys, or a combination of these materials.
After Dr. Tonny Tang his dental team prepare your teeth, we will take an impression that is sent to our off-site dental lab for processing. To protect your teeth until your new dental bridge is made, we will make a custom temporary bridge for you to wear. A Dental Bridge not only restores the function of your teeth, but it also prevents the surrounding teeth from drifting out of position and into the space created by the missing teeth.
The best candidate for a dental bridge is someone with one or more missing teeth with good overall dental hygiene. A dental bridge requires special attention to hygiene at home which includes flossing under the bridge. We also monitor how your dental bridge is functioning with regular dental visits and professional hygiene appointments.
We know that your smile is important to you and replacing missing teeth with our SE Calgary Dental Bridges is one of the many dental health services that we offer at Copperstone Dental.