Your Choice for SE Calgary Dental Implants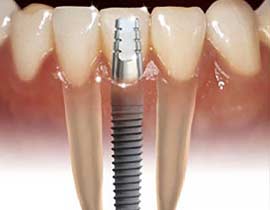 If you have missing teeth and are looking for a reliable solution, Copperstone Dental is pleased to offer SE Calgary Dental Implants to restore your oral health and wellness!
Dental implants are used to replace one or more missing teeth by using an artificial root made of titanium metal or ceramic. If you have missing teeth, Dental Implants treatment might be the best solution for your unique needs.
What Are Dental Implants?
Dental implants are made from surgical-grade materials and acts to replace the missing root of your tooth. They are surgically placed into the jawbone, and after a short period of healing, your dental implant is fitted with a ceramic dental crown or bridge to complete the restoration.
We also recommend Dental implants for patients with dentures to maximize the fit and comfort of the denture when problems such as inadequate bone levels are or irregular bone shape interfere with the function of the denture. Patients that experience pain and irritation to their gum tissues, and resort to using denture adhesives are great candidates for implant supported dentures.
The benefits of dental implants include:
Enhance the Natural Appearance of Your teeth
Saves the Surrounding Teeth
Conserves Bone Density
Reliable and High Functioning
Permanent & Very Easy to Take Care Of
The success rate for dental implant treatment is very high. We consider Dental implants as a permanent restoration. Unlike wearing a denture or partial denture that must be removed every night or worry about eating certain foods that may cause the denture to click or slip, dental implants are the closest restoration to your natural tooth structure!
Find Out if Dental Implants are Right for You
Ideal candidates for dental implant treatment have good overall health and practice routine oral hygiene practices. Adequate bone levels in your jaw are also required to support the dental implant, and healthy gum tissues that are free of gum disease is very important, for your dental implant treatment to be successful.